If you're wanting to buy a chainsaw but don't know how to start then you've come to the right place because We are here to help you get the information you need and guide you towards buying the right chainsaw.
1. What is a chainsaw?
The chainsaw is a highly effective and efficient tree and branch cutting power tool. It works with an engine, referred to as a power head; powering a metal chain, driven by a centrifugal clutch, with a chain moving around a groove in the guide bar at fast speeds. When the moving chain makes contact with wood, its sharp teeth are dragged across the surface, cutting the wood. The chain can't be guarded and thus the reason why chainsaws are the most dangerous hand-held power tool in the world.
2. How does a chainsaw work?
Gas chainsaws typically have a two-stroke engine, which incidentally is what lawnmowers, snowmobiles and outboard engines use, and the reason why they are noisy, but with the proper hearing protection you'll be well protected from the noise. More on that later.
3. Who uses a chainsaw?
Chainsaws are used by a wide range of people including: homeowners, arborists, gardeners, landscapers, loggers, firefighters, carpenters, chainsaw artists and people just like you. If you have a need to cut or trim trees, then you probably need a chainsaw.
We are proud to represent the Stihl chainsaw product lines. We carry the most common models in stock at all times and can source all other products from these suppliers.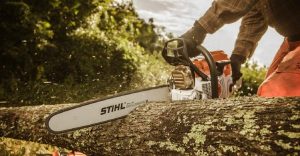 Current Power Machinery has been providing quality support to our Residential and Commercial customer's from our Clarkson Village location for over 42 years. Our philosophy has always centered on educating our customers so that they can make informed decisions on any purchase of any new equipment and for the necessary repairs and maintenance of their existing tools. We carry top quality brands to meet all your lawn and garden maintenance needs for both home owners and professional landscape contractors.
For more details contact us.